Guten Tag! it's David!
Currently, I work as a Front-end engineering consultant in Lille, France. Recently I was given the chance to visit the contentful HQ in Berlin. Four days to explore the city and meet the team. Plus an amazing mission: watch the match France vs Germany in incognito mode.
Berlin — Capital of Germany
During my trip, I came across a lot of nice places just by walking. The weather was great! It would have been a shame not to enjoy the sun, all this made it easier to practice my favorite activity: getting lost & dicovering new places.
These are some of the places I liked in particular: - Alexander Platz - Berliner Dom - The Chaos Computer Club - Checkpoint Charlie - Plenty of "straße" - & Ampelmann Shop (Yes, in Berlin there are custom traffic light men)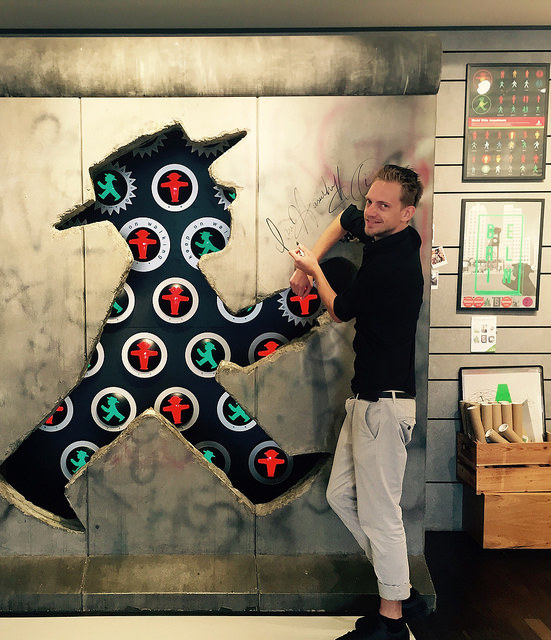 A small dedicace on the wall because I'm famous
Meeting people: Agile Board Hacks at ThoughtWorks
This was my first time in Berlin. I'd like to meet new people, so what is the best way to do that? … I am a community leader of some meetups in Lille. Maybe I can find a nice meetup group in Berlin!
A few hours after landing I was at ThoughtWorks Werkstatt, an event host, for an event called Agile Board Hacks.
Nick Thorpe presented examples of agile walls from his blog — https://agileboardhacks.com — where teams try to ship features faster or try to solve problems.
If you want sketchnotes for your next trip join us as a rider
2 days at Contentful HQ
about:contentful
Contentful has a mission: avoid the web-focused CMSs — aka See As Mess systems. These systems are not a proper fit for the web in the 21st century — the web of mobile, interactive & multichannel content.
Instead contentful is a tool designed with developers in mind: it's an API with a focus on content.
Developers are happy because it doesn't have a bloated backend
CMS addicts are happy because they can edit content on a web platform
Businesses are happy because they have a clear pricing page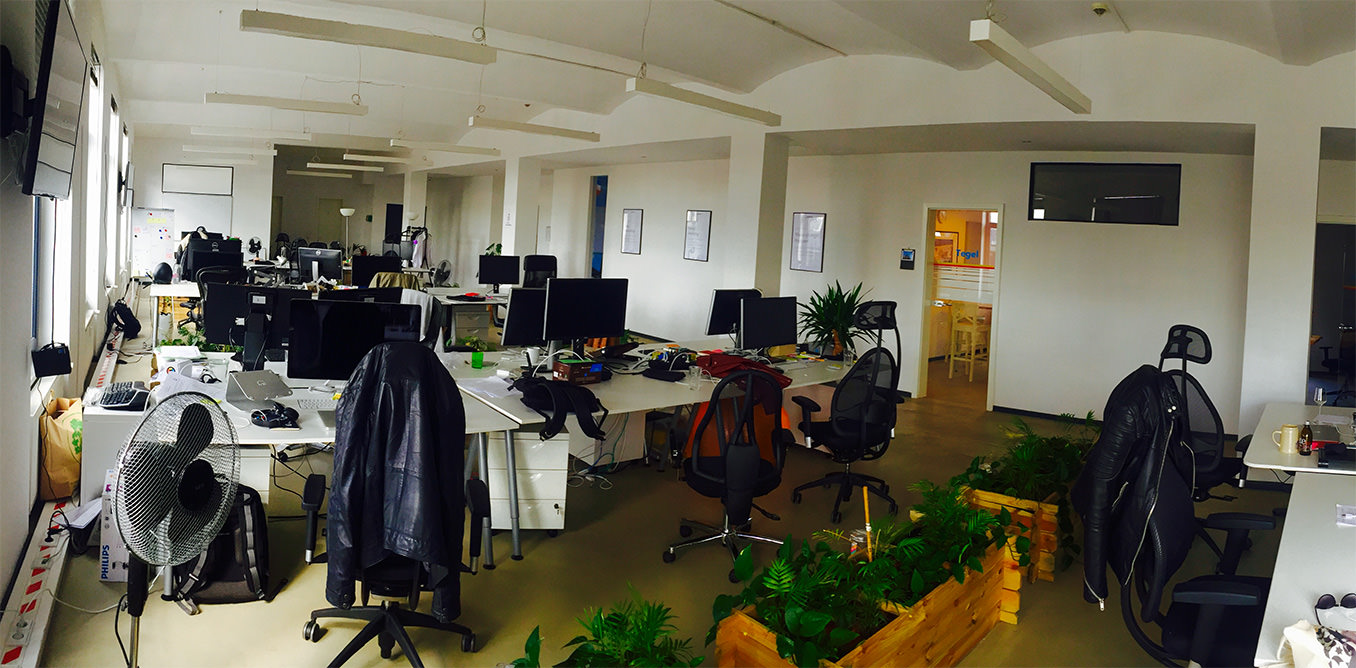 This is where the magic happens
Meeting the team
During the meeting I was able to talk with a lot of smart people who are involved in the product.
As a Chief Marketing Officer, Chris wants to facilitate multiple great user experience paths for Contentful. What if customers were allowed to have built-in solution? You push the famous big red button and — Bam! Your new website is online with an astonishing theme… Maybe they are working on it? #revelation #stayTunned
Artas is the Product Marketing Manager at Contentful, and one of the issues he works to solve is about automation. It's funny because it reminds me one of my favorite quotes.
Whatever you do, make sure you are automating, because if you aren't, all you are doing is making it harder for yourself when you revisit the problem, and making it even harder for the next person who will inevitably have to reproduce your solution. Githuber at Puppet conf
I also met Eugene — Copywriter - & he shared an amazing website with me about Typography typesetinthefuture.com.
But wait, it's lunch time!

Homemade lemonade & mushroom salad
After the lunch, I met Marko, Claus & Jan (Designer & developer).
We talked about how I code / organize atomic design systems like patternlab. During the talk we discovered we're all obsessed with performance so we shared our favourite tools about image optimization :
svgo: A nodejs-based tool for optimizing SVG vector graphics files.

ImageOptim-CLI: Automate the optimizations of images.
Time to chill a bit
At the end of the day, I had a great time with the Kr3w: playing table tennis in the chilling zone.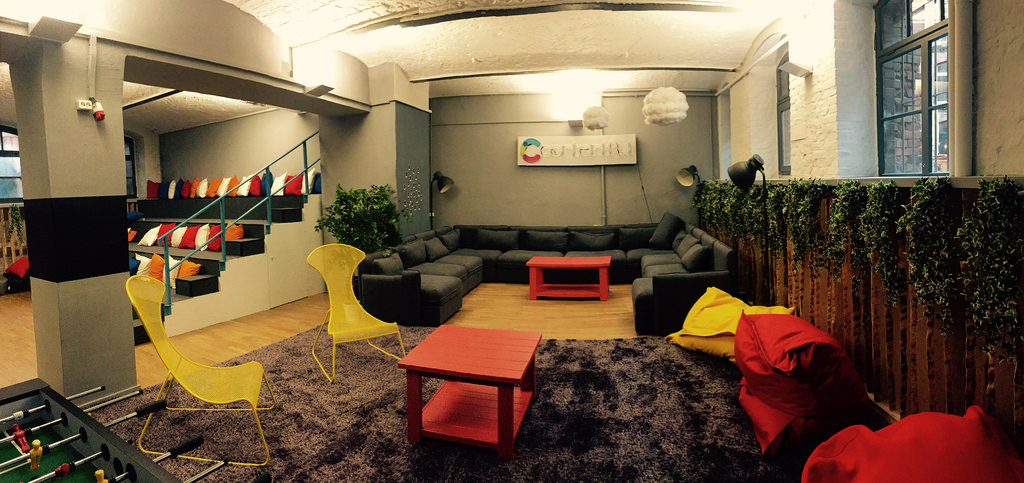 Basement chilling zone!
Before leaving the team they offered me an amazing gift: the goodies box! What does it include?
A coloring book
A Rubik's Cube
A bunch of stickers
A Tshirt
and …? and …? and …? Socks!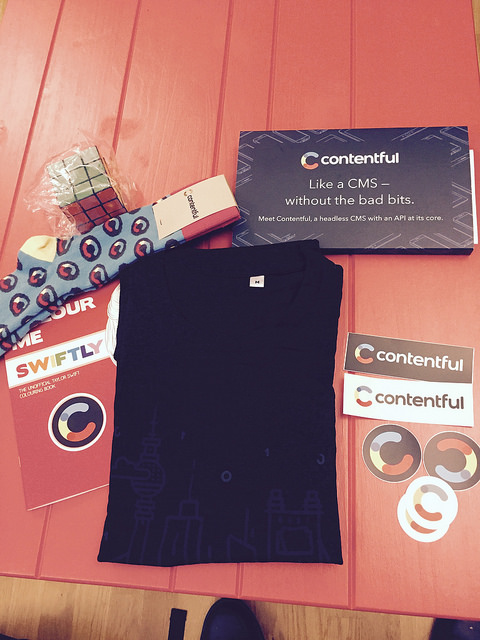 Tweet about the socks #contentsocks @contenful
What next?
If you like ruby, middleman and want to dig on contentful follow me on twitter! I will soon have a surprise for you :)
Berlin is an amazing city, if you want to join our next ride feel free to contact us! We will go to the coworking betahaus & after a working day, we gonna eat some currywurst.